Quentin Tarantino

Pulp Fiction is een Amerikaanse misdaadfilm uit 1994 onder regie van Quentin Tarantino. Het geheel bestaat uit vijf individuele verhaallijnen, die elkaar gaandeweg ontmoeten en beïnvloeden.
De film vertelt vier verhalen, die in een niet-chronologische volgorde getoond worden. Elk verhaal afzonderlijk speelt zich wel chronologisch af. De vier verhalen zijn ook onderling verweven, waarbij Vincent de enige is die in de vier verhalen een rol speelt.
De volgorde in de film:

"The Diner Part I"
"Vincent & Jules"
"Vincent Vega & Marsellus Wallace's Wife"
"The Gold Watch"
"The Bonnie Situation"
"The Diner Part II"

De echte chronologische volgorde:

"Vincent & Jules"
"The Bonnie Situation"
"The Diner (I & II)"
"Vincent Vega & Marsellus Wallace's Wife"
"The Gold Watch"
De muziek in de film bevat zowel covers als de originele uitvoeringen van hits uit de jaren 60 en 70
Son of a Preacher Man (1968) – Dusty Springfield
Girl You'll Be a Woman Soon 1971 (Neil Diamond) – cover by  Urge Overkill
You Never Can Tell (1964) –  Chuck Berry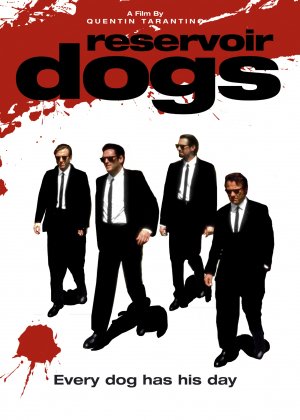 Reservoir Dogs is een Amerikaanse cultfilm uit 1992 en het regiedebuut van Quentin Tarantino.
Verhaal
Joe Cabot organiseert samen met zijn zoon "Nice Guy" Eddie een spectaculaire overval op een grote diamantair. Ze hebben een geniaal plan, sturen zes specialisten op pad en blijven zelf op de achtergrond. Maar toch gaat het fout. De politie blijkt exact op de hoogte te zijn van de overval en wacht de bende met getrokken pistolen op. Een bloederige schotenwisseling volgt. Er vallen een dode en een zwaargewonde onder de bendeleden. Ze zijn er blijkbaar ingeluisd. De daders, die elkaar alleen kennen via codenamen zoals Mr. Orange en Mr. White, vermoeden dat een van hen een undercoveragent is. Een keiharde en bloederige onderlinge confrontatie volgt.
Stuck in the middle with you (1972) – Stealers Wheel
Fool for Love – Sandy Rogers
Little Green Bag (1969) – George Baker Selection
https://nl.wikipedia.org/wiki/Reservoir_Dogs
Kill Bill
Kill Bill is een Amerikaanse actiefilm in twee delen van filmregisseur Quentin Tarantino. Vol. 1 (deel 1) kwam in oktober 2003 uit, Vol. 2 (deel 2) volgde korte tijd later in april 2004.
The Lonely Sheperd (1977) – Gheorghe Zamfir/James Last
Bang Bang (My Baby Shot Me Down) 1966 – Cher/ Sonny Bono
Don't Let Me Be Misunderstood (1964 Nina Simone) –  Santa Esmeralda